Society News
Latest News
Annual General Meeting 2016
The Annual General Meeting of the Village Society was held in the village hall on 23 March 2016, at which the minutes of the 2015 AGM were approved.

To view a copy of the AGM Minutes click below:
2015 AGM Minutes
To view a copy of the Chair's Report to the 2016 AGM click below:
2016 AGM Chair Report
At the AGM a presentation of The Emerging Local Plan and Implications for the Green Belt was made by Chiltern District Councillor John Gladwin: To view a copy of John's presentation click below:
Local Plan Presentation
---
Illustrating with Style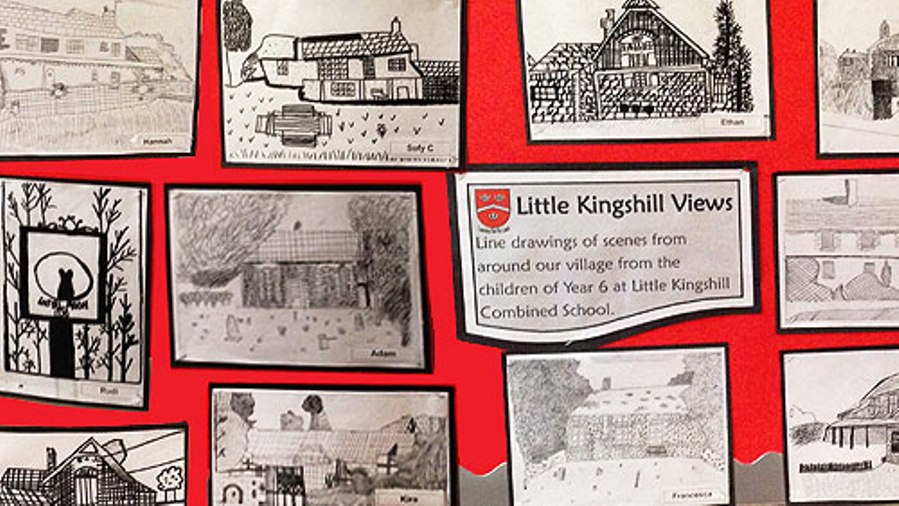 ∗ Being surrounded by the Chilterns Area of Outstanding Natural Beauty has proven to be truly inspirational for budding
year six artists at Little Kingshill Combined School.
The young creatives put pen to paper to capture 'Local Views' in a competition sponsored by the Village Society to find
a winning image for the cover of this year's handbook. The pupils presented a wonderful selection of illustrations depicting
buildings and scenes from in and around the village as black and white line drawings, using either pencil or ink.

The LKVS judges were overwhelmed by the standard of entries with some remarkable illustrative styles on display and
selecting an overall winner was no easy task.
It was however felt that Francesca Luker's drawing of the Baptist Church had both captured the character of the building
and been created with remarkable stylised detail. Francesca's winning Illustration is proudly featured on the cover of the
handbook - a worthy winner indeed!

The competition was generously supported by local gallery owner Carina Haslam who joined us to present the winning prize
plus awards to runners up Hannah Eades and Amy Goodall for their outstanding views of the village.
The Village Society would like to thank all the pupils who took part in the competition and wish them all the very best with their future artistic endeavours.
Thanks also to Carina Haslam for kindly offering to support for this project www.carinahaslamart.com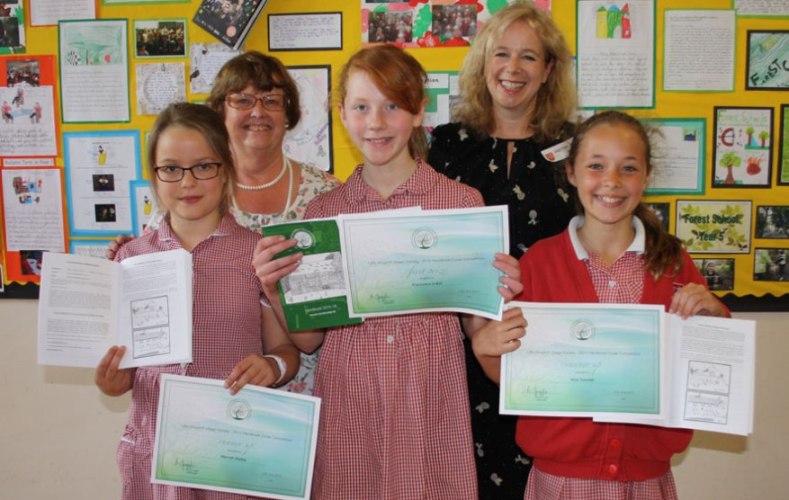 ∗ Left to Right - Front: Hannah Eades, Francesca Luker, Amy Goodall
Back: Sandra MacDonald (LKVS), Carina Haslam (Carina Haslam Art)
---
∗ A hoax chain email warning of a parcel delivery scam is doing the rounds again.
This is a hoax message which has been wheeled out at Christmas in various forms for years.
It asks you to pass it on to your friends, family and neighbours.

The Police fraud outfit, ActionFraud is the UK's national fraud and internet
crime reporting centre. It provides a central point of contact for information about fraud and financially
motivated internet crime (tel. 0300 123 2040). On www.actionfraud.police.uk, it gives the following advice
about this hoax,which you are advised to pass on to whoever sends it to you, if you receive it from anyone you know:
If you receive this email just delete it and do not to forward it to anyone.